What's Your Home Worth?

Get a free comparative market analysis of your home's worth sent to you with no obligations.
North Edison Real Estate in Greater Middlesex County, New Jersey
North Edison real estate is

located within

the northern part of the city of Edison and the Edison Township. It is bordered on the south by Metuchen, on the north by Scotch Plain, on the west by South Plainfield and on the east by Woodbridge . North Edison NJ zip code is 08820. Other zip codes for Edison are 08837 and 08817.
08820 real estate includes North Edison homes for sale but also many North Edison condos for sale and townhouses.
"... I think that your program the other evening was quite superb. It was very generous for you all to let the public know about these programs..." - Tikola K.
"Congrats on a successful program...all your hard work!!" - Deborah K.
"...Professional, Thoughtful and Rewarding "First Time Home Buyer Program" - could not have prepared a better night for ALL..."- Judie C.

If you have missed our two last events and would like to go over the same information, it is not too late. Register now to set up your very own First Time Home Buying individual tutorial, at no cost or obligation.

Edison Open Houses this week-end - Coming soon







» I want to make an appointment to see one or more homes ->


» Email me automatically new homes that fits my criteria as soon as they come on the market ->
» I want to know more about local down payment programs/grants (ADD, SS, WWYL, USDA) and sellers concession ->
More Open Houses for cities in Middlesex County, NJ- Looking to buy North Edison Foreclosures or North Edison Short Sales?

The following statistics are for North Edison Real Estate only (calculated based on 08820 zipcode), for homes and condos & townhouses sold for the year 2012 YTD (calculated on Sunday 11/11/2012). Data is from the Middlesex County Multiple Listing System. Please read our disclaimer at the bottom of this page. For historical and trending North Edison real estate statistics, click on the North Edison options on the left side menu or North Edison homes for sale and North Edison condos for sale. More Edison Real estate (South Edison, Clara Barton, 08817, 08837).
| | | | | | | |
| --- | --- | --- | --- | --- | --- | --- |
| North Edison 08820 | North Edison Home prices | Number of North Edison Homes Sold | Min. North Edison Home Price | Max. North Edison Home price | Days on Market | Sold Price Vs List Price |
| North Edison Homes | $469,684 | 201 | $175,000 | $999,900 | 67 | 95.5% |
| North Edison Condos | $297,888 | 92 | $148,000 | $435,000 | 71 | 94.9% |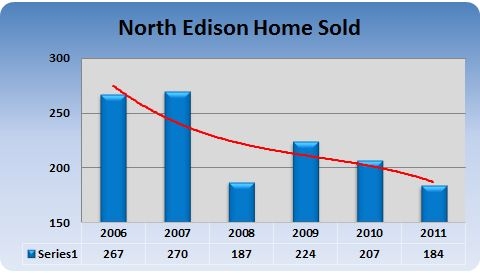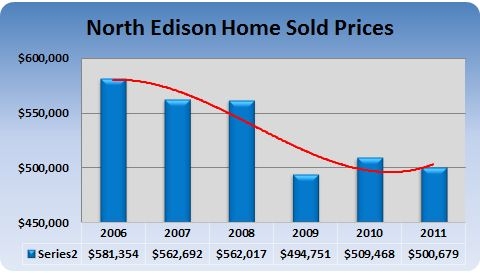 In 2009, Edison was ranked as one of "America's 10 Best Places to Grow Up" out of 2000 places by U.S.News & World Report. The ranking focused on low crime, strong school system, expansive green spaces, and abundance of fun recreational activities and family events.


In 2006, Edison was ranked the 2nd most livable small city in New Jersey by Money Magazine.

In 2008, Edison was ranked 35 out of the top 100 places to live in the US by Money Magazine.




Edison Motto: "Let There Be Light"
First of all, many thanks to Cathy and the team for helping me throughout the process. Deal couldn't have been closed without all the help. Cathy is very motivated, diligent, and responsive. She goes above and beyond to ensure transaction will close. For example, when we encountered a last minute COO inspection issue, she took the initiative to find a capable contractor to fix the problem immediately. One can hardly find any realtor who works harder than she does. I'm very happy that she represented me. I'll be glad to provide reference. Just let me know."- Jie Z, North Edison Home Seller. Under Contract within 10 days.